There's more than one Halloween experience in Orlando! Named Best Halloween Event by Amusement Today 12 times, Halloween Horror Nights at Universal is a must-do for horror lovers.
What is Halloween Horror Nights?
During Halloween Horror Nights or HHN, guests will experience ten haunted houses inspired by the biggest names in horror, five scare zones, two live shows, plus themed food, drinks, and merchandise. This year the houses take inspiration from iconic villains like Michael Myers and the Universal Monsters. Universal's rides and attractions remain open during the event, so guests can take a break from the horror and ride some rollercoasters.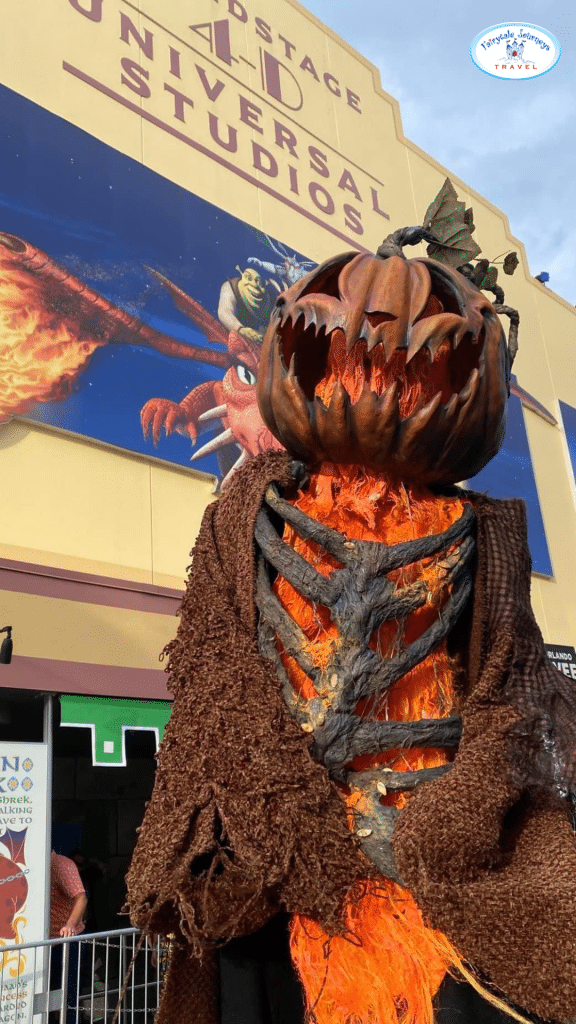 When does Halloween Horror Nights happen at Universal Studios?
Experience the horror Wednesday – Sunday nights, September 3, 2022, through October 31, 2022, from 6:30 pm – 2:00 am. Guests without an HHN ticket will be asked to leave the park at 5:00 pm. General admission for the event begins between 5:30 pm and 6 pm. Anyone with access to Universal Studios, HHN admission, Scream Early ticket, or Annual Pass may gain early admission. Early entry guests check in at one of the holding areas at 5:00 pm and can begin touring the houses between 5:45 pm and 6:00 pm. They will see one to two houses before the general admission enters the park.
Do resort guests get any special perks at HHN?
Short answer – yes!
The Monster Gallery of Legends at Universal's Cabana Bay Resort is an exclusive walk-through attraction for Universal Resort guests. This immersive experience features The Wolf Man, Dracula, The Mummy, and other iconic Universal monsters. Guests can also enjoy beverages in a scary setting at Cabana Bay's Spooky Swizzle Lounge.
Resort guests also enjoy priority entry to HHN through an entry gate explicitly reserved for resort guests. This gate is located to the right of the general admission turnstiles.
Does the Wizarding World of Harry Potter do anything for HHN?
All you Slytherins will love Dark Arts at Hogwarts during the event. There is an extra spooky projection show and fireworks on Hogwarts Castle at dusk. After the show's conclusion, Death Eaters wade through the crowd, sometimes even dueling with guests. The show repeats at midnight, but the Death Eaters are only present for the first show.
Is the event kid-friendly?
Due to the mature nature of the event, Universal recommends a minimum age of 13 years old. Children are not barred from the event, but parents must use their best judgment when deciding whether or not to bring the kids along for the screams.
Do we need Express Pass?
The HHN Express Pass is separate from the Express Pass guests purchase for their regular park tickets or receive free as a guest of a premier resort. If guests wish to skip the lines during the event, they will need to purchase HHN Express Pass in addition to their event ticket. In past years, lines for houses quickly reached 90 minutes. To be sure guests have ample time to tour every home, HHN Express Pass would be a good investment.
Contact your Fairytale Journeys Travel Advisor for more Halloween Horror Nights tips and to book your stay at Universal Orlando!
Sarah is from Northeastern Ohio where she juggles raising four small children, a custom quilt business, never-ending DIY projects, and travelling as often as possible. Sarah has been with Fairytale Journeys as a Travel Consultant since 2021. She loves helping clients have the best possible travel experience no matter the destination. She also co-hosts To Disney and Beyond: A Travel Podcast with a fellow FTJ agent.