Welcome to the magical world of Disney! If you're planning a visit to Disney World and seeking the perfect blend of comfort, affordability, and enchantment, look no further. In this blog, we'll unveil the best moderate resort options at Disney World. Ensuring a memorable stay that fits your budget and offers an immersive experience.
Although Art of Animation falls under the category of a "Value" resort, the family suites can be deemed "Moderate" due to their affordable pricing and spacious accommodations. These suites feature a bedroom with a queen bed, a living area with a pull-out sofa, and a Murphy bed. Which conveniently folds down over a dining table, a well-equipped kitchenette, and the added convenience of two full bathrooms! This abundance of space makes it an ideal choice for larger families.  
The Cabins at Fort Wilderness Campground
The Cabins at Fort Wilderness Campground offers a unique accommodation option for families.  These one-bedroom cabins sleep six and include a full kitchen! They also have a private deck, parking space, and a charcoal grill.  The houses might be the best option if you want a personal space to relax between theme park days.  The campground is huge, so you may want to ask your travel agent about renting a golf cart to get yourself around.
Disney's Coronado Springs Resort
Spanish-Inspired Elegance: Experience the allure of Spanish-style architecture and modern amenities at Disney's Coronado Springs Resort. Discover the tranquil oasis of the Lost City of Cibola pool, savor delectable dining choices, and unwind in the comfortable rooms. With its serene ambiance and distinctive charm, this resort is perfect for those seeking a blend of sophistication and relaxation.
One of the biggest perks of Coronado Springs Resort is the number of dining options that are available on the property.  While most moderate resorts include several quick-service restaurants and one table-service location. Coronado Springs boasts four table service restaurants, bars, lounges, and counter service options.  It has a great pool with a water slide, and the Southwest American and Mexican theming are somehow both fun and relaxing at the same time. 
Disney's Port Orleans: French Quarter
Port Orleans: French Quarter is the smallest of the moderate resorts, with just seven buildings within a short distance of the central dining location and pool. While there is no table service restaurant here, there is a boat service to Disney Springs. This is where many dining options are available.  However, what French Quarter does have is Scat Cat's Lounge, where guests can enjoy nightly jazz music and delicious beignets.  Which aren't available anywhere else on Disney World property!  
Disney's Caribbean Beach Resort Moderate Resort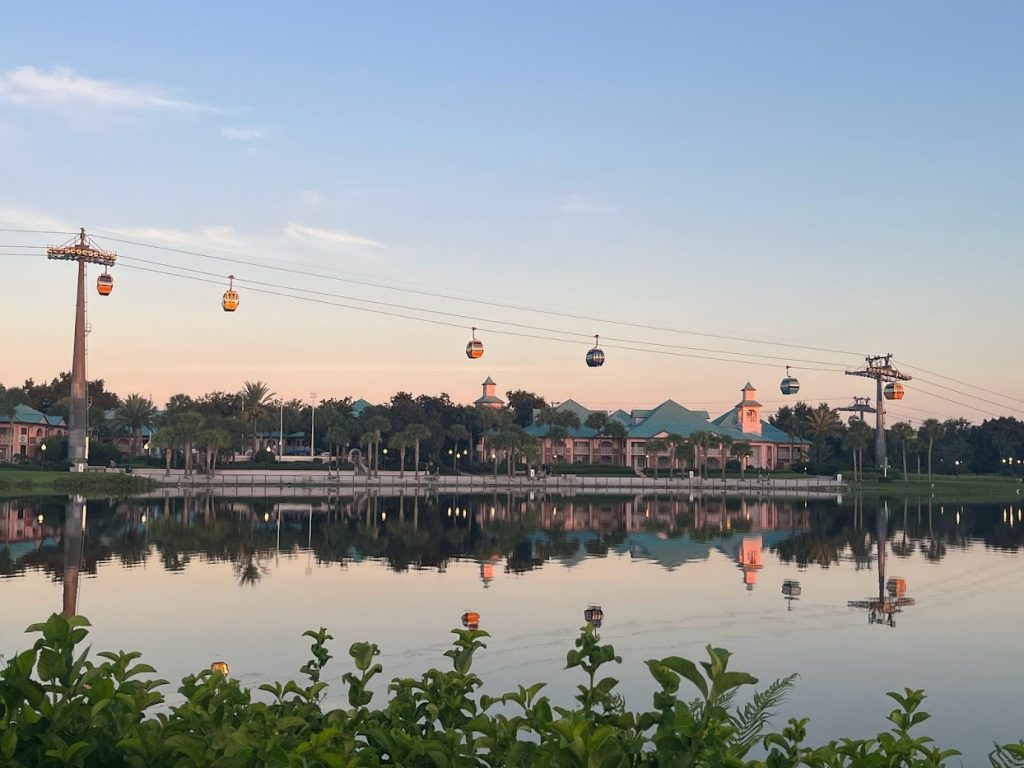 The advantage of staying at Disney's Caribbean Beach is the Skyliner!
Tropical Paradise Awaits Transport yourself to a vibrant tropical paradise at Disney's Caribbean Beach Resort. Immerse yourself in the colorful Caribbean-themed accommodations and relax in lush gardens. With its Fuentes del Morro pool, white sandy beaches, and diverse dining options. This resort promises an unforgettable vacation experience for the whole family.
Disney's Port Orleans Resort – Riverside:
Southern Charm and Tranquility Nestled along the picturesque Sassagoula River, Disney's Port Orleans Resort. Riverside has Southern hospitality! Indulge in the cozy, rustic ambiance of its Alligator Bayou or revel in the elegant charm of the stately Magnolia Bend. With scenic landscapes, delightful dining options, and themed pools, this resort offers a tranquil escape for every dreamer.
Port Orleans: Riverside!  Our Disney planners agree that this resort is beautiful and relaxing. It also has the famous "Royal Rooms" which feature touches that every princess-lover will enjoy! It is an excellent resort to relax on busy park days.
Which should you choose?
Each moderate resort at Disney World has something unique. A lower price than a Deluxe hotel, a convenient location, great theming, or extra amenities.  Your best moderate resort will depend on your and your family's needs!  Your Fairytale Journeys Travel Agent will help provide you with concierge service. Contact your Fairytale Journeys advisor today to get started on planning your trip!
To learn more about Disney trip planning and to discover the Best Disney Travel Agents available, be sure to visit Countdown to Magic.
Amy lives in the suburbs of Chicago and stays busy with 4 young children and planning as much travel as school and activities schedules allow!  She loves to experience new places with her family, but her favorite place is Walt Disney World.  She also loves helping others plan vacations with as little stress as possible so that they can just focus on the fun!