Universal Studios is known for its whoa-inducing thrill rides and entertainment, but there are plenty of attractions that younger kids will love too! Read on for a complete guide to Universal for Little Kids.
Seuss Landing
Located in Islands of Adventure, Seuss Landing drops guests into the world of Dr. Seuss's beloved children's books. Multiple attractions, shows, character interactions, and dining options feature Seussian theming.
During the holidays, Seuss Landing is home to Grinchmas, which includes seasonal decorations, the Whos of Whoville, a Grinchmas Who-holiday Spectacular, and The Grinch & Friends Character Breakfast.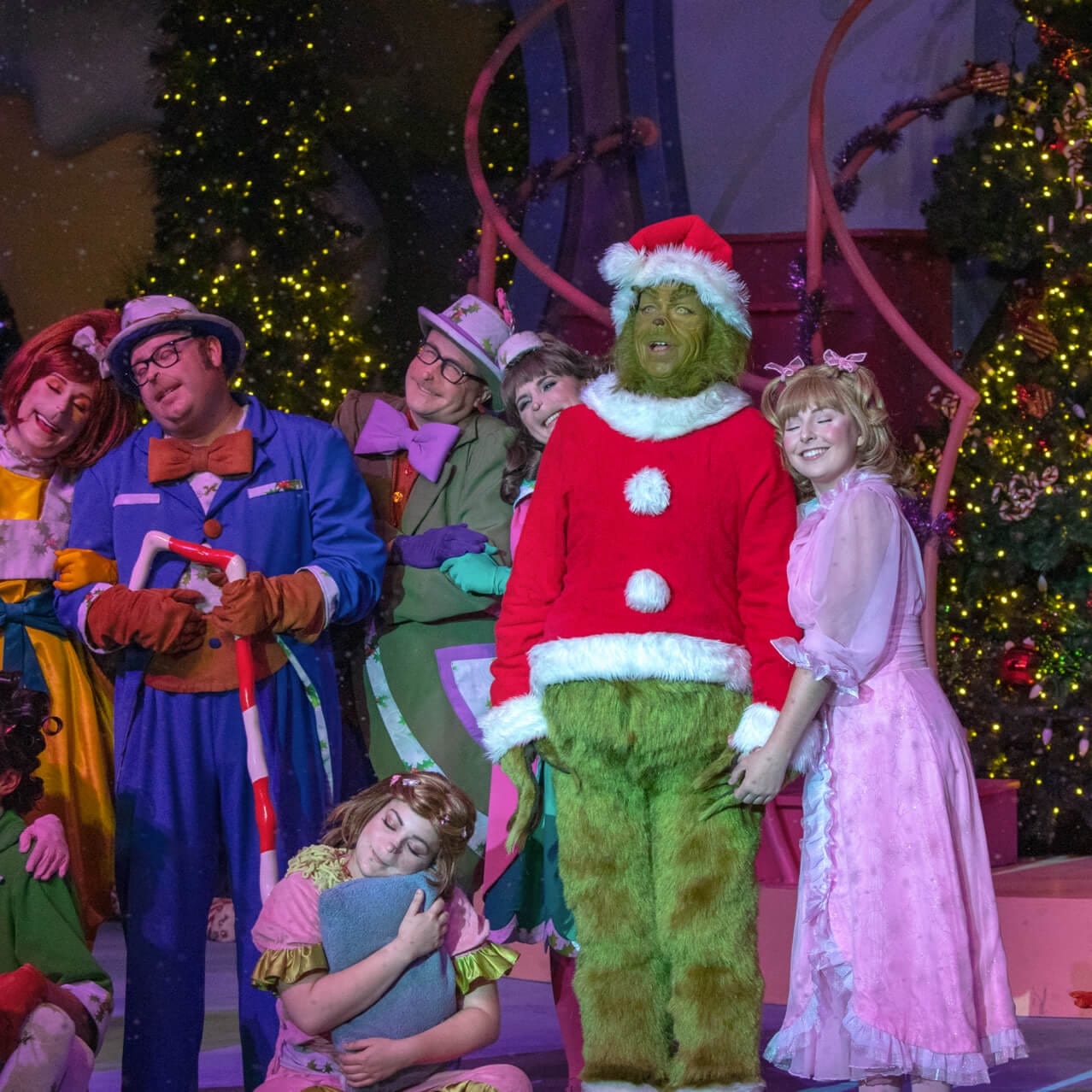 Playgrounds and Splash Pads
Little ones can enjoy play areas while older siblings or parents enjoy the thrill rides. If I Ran the Zoo is one such play area in Seuss Landing. Little dinosaur lovers will also enjoy exploring a multi-level prehistoric playground at Camp Jurassic and learning about dinos at the Jurassic Park Discovery Center.
Attractions
One Fish, Two Fish, Red Fish, Blue Fish: an aerial carousel ride
The High in the Sky Seuss Trolley Train Ride: a trolley above Seuss Landing. You'll either venture through the story of The Sneetches or a Seussian alphabet of characters (36" and taller)
Caro-Seuss-el: guests ride an interactive Elephant Bird, Cow Fish, or Scraggle-foot Mulligatawny.
The Cat in the Hat: experience the famous story on this dark indoor ride (36" and taller)
Flight of the Hippogriff: fly on the back of a Hippogriff to Hagrid's hut (36" and taller)
Hogwarts Express: a slow train ride between Diagon Alley and Hogsmeade
Pteranodon Flyers: guests 36"-56" can soar high above Jurassic Park with the Pteradons (and a supervising companion)
E.T. Adventure: experience the legendary film on a bicycle-style ride vehicle(34" and taller)
Kang & Kodos' Twirl 'n' Hurl: swoop up and down in a flying saucer while aiming a laser at your favorite Springfield residents.
Character Interactions
Throughout Universal Orlando, little kids can meet their favorite characters, including Minions, comic book heroes and villains, Scooby-Doo and the gang, Suess characters, and many more.
Parades and Shows
Each day the Superstar Parade loops through the streets of Universal Studios Florida. Little ones love seeing their favorite characters dance and sing with street performers.
In Islands of Adventure, little Harry Potter fans will enjoy the nightly projection and fireworks show at Hogwarts Castle.
And don't miss Animal Actors, a wild showcase of vibrant birds, pesky pups, agile cats, and more.
Volcano Bay
While the bravest guests conquer the Ko'okiri Body Plunge and the Fearless River, little Waturi can enjoy the Kopika Wai Winding River, Puka Uli Lagoon, Runamukka Reef, and The Reef at Universal's Volcano Bay Waterpark.
Resort Recreation
When guests take a break from the parks, little ones can enjoy all that Universal Resorts offers, From waterslides, splash pads, playgrounds, and lazy rivers, to arcades, bowling alleys, and movies by the pool each evening.
A Universal Studios vacation offers something that every family member will enjoy. Start planning with an Fairytale Journeys Travel agent today!
Sarah is from Northeastern Ohio where she juggles raising four small children, a custom quilt business, never-ending DIY projects, and travelling as often as possible. Sarah has been with Fairytale Journeys as a Travel Consultant since 2021. She loves helping clients have the best possible travel experience no matter the destination. She also co-hosts To Disney and Beyond: A Travel Podcast with a fellow FTJ agent.