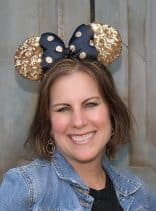 Jennifer
Pendleton
Travel Advisor/Agent Mentor
I grew up in Southern California with Disneyland at my backdoor. My family created so many fun memories at Disneyland. I am blessed to continue this tradition with my own children. Since 2007, my family has taken annual trips to the Happiest Place on Earth. My extended family still lives in Southern California so each trip is a wonderful family reunion.
I have traveled during the Disneyland Resort Diamond Celebration, Halloween, Christmas, as well as winter, spring, and summer crowds. I have celebrated milestones like my mother's 70th birthday, my 40th birthday, & my 10th Wedding Anniversary. I have traveled in both a small group as well as a group upwards of 18. I have experienced the Disneyland Resort with young children, teenagers, hungry husbands, and grandmas. I have stayed on-site at all of the resort hotels as well as a few Good Neighbor hotels. Needless to say, I have experienced many different scenarios at the Disneyland Resort and have learned something from them all!
As a mother, I look at a Disney vacation with such different eyes than as a child. I see the importance of a family vacation to reconnect with loved ones. Everyone has their own story of why they want to visit a Disney resort. For some, a Disney vacation is a once in a lifetime experience. For others, it is an annual adventure. Sadly for some special guests, it is their wish. It is my pleasure and honor to be included in your Disney story. Know that no matter what your budget is, I will work at creating the most magical trip for your and your family.
Fee free to contact me to help you "Unlock the Magic" to your next Disney Destination.
Graduate of the College of Disney Knowledge and California State Polytechnic University, Pomona.